IVC
Group Number: 1821
Oxygen shock-tested up to 360 bar
Robust and reliable design
Compact size
Compatibility with EN ISO 22435
Guard – tested according to ISO11117 for 130 kg as maximum weight of package (cylinder, gas and IVC)
Filling port with non-return valve
Passive cylinder pressure indicator, it can be easily replaced without losing gas
TECHNICAL DATA
Gas
Inlet
pressure (p1)
Outlet
pressure (p2)
Standard
discharge (Q1)
Oxygen
200 or 300 bar
0 - 10 bar
30m3/h
Acetylene
25 bar
0 - 1,5 bar
5m3/h
Argon and CO2 mixture
200 or 300 bar
0 - 25 l/min
1,5 m3/h
GCE combination valve design is supported by many years exploitation experience worldwide. It is examined according to Directive 2010/35/EU.
Acetylene, argon/CO2, oxygen, 200 and 300 bar technology, features like residual pressure valve, pressure relief valve, variety of possible connections and filling ports with non-return function, make GCE combination valve ready to be used in variety of industrial applications by just connecting your equipment directly to IVC outlet and adjusting flow parameters.
Special GCE plastic or metal guards protect combination valve from damage during transportation and operation. Special shape of guard makes cylinder transportation easier and safer.
CONNECTION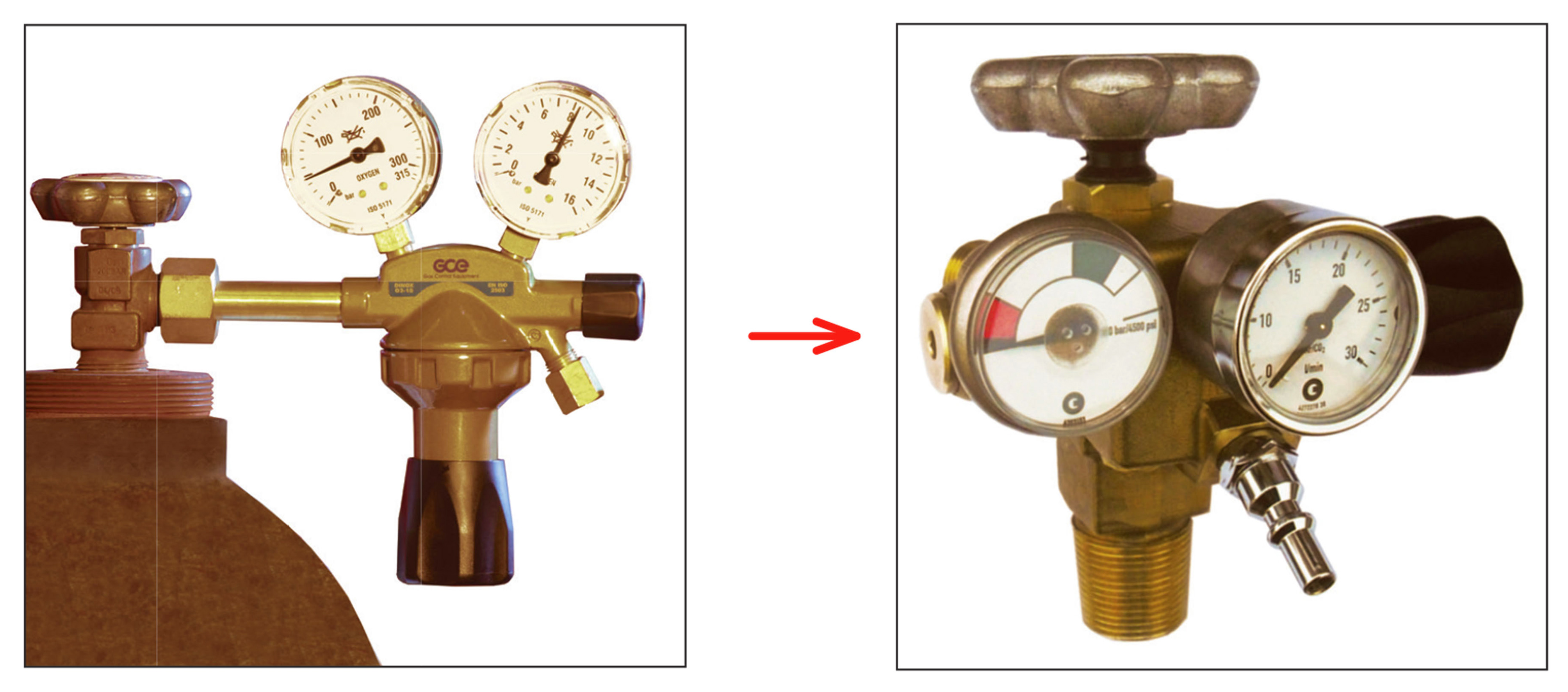 GCE combination valve is one step further in gas control comparing to simple cylinder valve. This much more technically advanced product connects in one brass body features of both cylinder valve and pressure regulator. This gives possibility of constant control and fluent adjustment of gas flow and outlet pressure.
Download Technical Datasheets
Additional Downloads for this Product
VLV Global brochure_EN.pdf
735100000649_IVC_2019.pdf